My intentions were to blog about some wonderful oatmeal cookies I made yesterday but they weren't "pretty" enough to deserve a blog spot. They were sooo good the husband couldn't stop eating them. I think any cookie is pretty amazing specially when they're right out of the oven right?. He's a cookie snob (well, any kind of dessert for that matter lol) so when I got his approval I was thrilled! But I made them so big they all got stuck together like one giant cookie! 
I like the kind of team the husband and I are; he's the
taste
quality control side and I'm the
visual
quality control person. When the recipe passes both tests, it will be share with ya'll.  So bee assured that the oatmeal cookies will make into the blog one of these days
Last year I posted this same recipe but instead of shrimp I used chicken (see recipe
here
). They're both as good and it all depends on what you have at hand. I think the shrimp version is better to make for pot-lucks and gatherings. I really think this is the ultimate summer dish! Everything is grilled except the couscous which is ready in 10 minutes. 
The shrimp and the veggies grill so fast that you won't have to spend a lot of time outside during the summer heat. If you live in a place other than Phoenix, then you would not care about spending more time outside grilling. This is the time of the year where most Arizonans spend indoors and only go outside for necessities. Can you believe today we're reaching at least 113 degrees? Yikes! I really envy the people in other States right now, the same way they envy us during the winter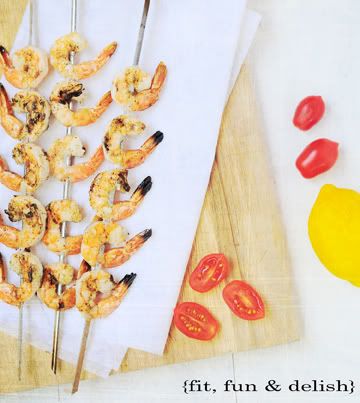 Grilled Vegetable Couscous with Grilled Shrimp
with lemon & feta cheese
Adapted from Cuisine at home – Grilled Dinners
Preheat grill
For the vegetables, toss

 zucchini, asparagus, and onion with 2 Tbsp. olive oil; season with salt and pepper. Grill vegetables, covered until charred, 5-6 minutes. Chop zucchini, asparagus, and onions into bite sized pieces.
For the couscous, boil
 1-1/4 cup of water. Add couscous and lemon zest. Remove from heat and let it sit for 5 minutes. Fluff with a fork and set aside.
Whisk 
lemon juice and 2 Tbsp oil in a large bowl. Add couscous, grilled vegetables, tomatoes, parsley, and scallions; season with salt and pepper. Top couscous with feta cheese.
Lemon-Butter Shrimp -
 1 pound shrimp, add s
alt and black pepper, 
1 Tbsp. unsalted melted butter,
1 Tbsp. each minced fresh lemon zest, lemon juice and minced fresh parsley.
Season
 shrimp with salt and pepper; grill covered about 3-4 minutes per side until they become pink. 
Whisk
 together the butter, zest, lemon juice and parsley in a bowl. Season butter with salt and pepper. Brush butter mix on shrimp before serving.
The above dinner fueled me perfectly for a great workout! After skipping the gym on Sunday I was actually happy to be back in the gym. 
I'm excited about tonight's workout since I'm going with two of my friends to a zumba class! I'm not a group class type of person but who doesn't like zumba? It's like going to a night club with a bunch of screaming girls! lol! Cannot wait for tonight!